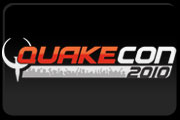 Sorry for the delay, had to get some sleep. QuakeCon 2010's second day is over, and the problems continue. The tournament once again
stalled
for several hours
without any notice
from anyone at QuakeCon. It seems
DNS issues
continue to plague the event, only briefly resuming for the

vamp1re
vs

dandaking
match before lag struck mid-way through, calling it a day once again.

Evil Geniuses
' player manager
Stuart Ewen
comments: "This even has been the single most disappointing Quake tournament I have attended, while the head admins are not at fault the lack of organization and preparation leading up to and during the event is deplorable. If the buzz around the forums is true as well, then the BYOC is in a similar state."
Gamespot decided to
restream
the event on their site, which was pretty cool for however long it was up.

proZaC
was escorted by police and
kicked out
of QuakeCon for indecent exposure after changing his pants in the tournament area after coming back from the pool. "No kids, no families, no nothing. Fuck QuakeCon. I'm OUT! Love", says proZaC in his
posting
, who's been relegated to room arrest in his hotel due to the incident. He tells me later, "The way those guys were coming at me, it's like they think I'm a terrorist or something. The police made me wait like two hours." He has and is currently ready to party in room 2269. It seems as long as you have
a tie on
, you're good to go.
I have given a
short interview
regarding my inability to attend this year's QuakeCon, as well as
several
news
stories
that have popped up. "Although I had not logged into the Focus Test in quite a while, and the information was public, I had still signed the NDA previously, and was therefore banned from Quake Live for a month. Then a few days ago I received an email stating I would not be allowed to enter QuakeCon 2010."
proZaC and I are
not wanted
.

chance
and

destrukt
had their quite boring rematch from last week's IVGHOF, with destrukt able to squeak out two one-frag victories. From what I hear, a video exists of chance not too happy after the loss, stringing obscenities towards destrukt after it was over.

stermy
looks in good form, taking down

DaHanG
in straight maps with a close win on Lost World (dm13), and a very strong defensive showing on Battleforged. The italian now looks forward to a hotly-anticipated semifinal with

rapha
, who he's taken out before.

Spart1e
came back down a map and railed his way to victory against

Cooller
to send the fan-favorite into the lower bracket, before being taken out by

Cypher
in the upper bracket semifinals. Spart1e had a sizeable lead against Cypher on Aerowalk before letting it slip away in the final minutes (
Video: Cypher POV
), leading to a rather one-sided victory on Lost World.
Edited by Slasher at 09:07 CDT, 14 August 2010 - 36757 Hits