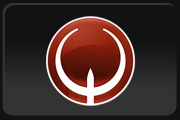 Let's have a thread for those who wants to go and see the finals live.
I have to admit I did not search thoroughly, but there is little information available at the moment besides the events dates, and the fact it is within the cebit.
Update: according to an ESL admin, Quake Live will be played from Wednesday 3rd until Saturday 6th.
I will come with my girlfriend (she gifted me this trip as Christmas present <3) , and our hotel was booked around the end of November. It was already difficult to find something reasonably good and not too expensive at that time, so if you don't have a reservation, hurry up, because with Cebit prices explodes, and all places are super busy.
Let's update this post with useful info when available.
Schedule
http://www.esl-world.net/masters/season4/hann...#wednesday
Tickets
You need a ticket to Cebit
The area age restriction is 16+
Participants
Memento_Mori + girlfriend
unHuman + 2x quakers
becks
rind
c1(?)
extaleR
Nukm + n1ghty
frs + children
Anarki320 + kan1
manc + friend
ischju
cracknigger and MACKER
Edited by Memento_Mori at 16:22 CST, 1 March 2010 - 23033 Hits