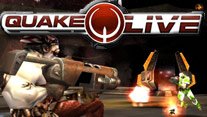 As part of our QuakeLive public beta launch coverage,
QuakeUnity
brings you an interview with id Software's
John Carmack
and
Marty Stratton
. John and Marty discuss the QuakeLive backend infrastructure, their work with mod authors to bring additional features to the game, and the hiring of developers from inside the Quake community. Additionally, the duo weigh in about the complexities of the technology behind QuakeLive, the possibility of licensing the system, their commitment to stop cheating, and the marketing strategy behind the game.
Although id Software has no plans to allow user-made modifications to be incorporated into QuakeLive, they have gone out of their way to hire one of the most successful Quake III mod authors to help them with their project. id revealed to QuakeUnity that Kevin "arQon" Blenkinsopp, author of the popular mod Challenge ProMode Arena (CPMA), has been hired as a contractor on QuakeLive. If you're not familiar with CPMA, it is the premiere mod of choice for Quake III tournaments. It includes competitive features such as modified gameplay physics, multi-view demos, and highly customizable HUDs.
You can read the full interview on
quakeunity.com
.
Edited by Badb0y at 05:56 CST, 26 February 2009 - 78775 Hits