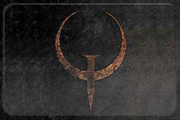 MIB-clan. The Men in Black, one of Germany's best Quake II clans.
Check out the incredible found footage video diary that TeddysJam recorded at the Pironet LAN party in 1999, with his good buddy Xtra Large and their close group of friends. Even for a non German speaker such as myself, this is a fun, intimate window into Germany PC gaming scene of the late 90's.
The medium sized "Deathmatch Showdown 3" and the huge "DarkBreed 99" German LAN parties are also explored thru archival photos and videos.
Thank you for checking out this blast from the past!
1404 Hits