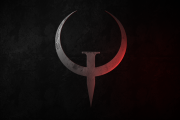 I have suggestions for Ranked games.
- Make ranks by region
(with current ranks - you are still able to see overall who is the best).
- Add another rank - Champion rank.
This rank should be aval at about 2400 SR.
- Champion rank should be animated so your rank will be on fire
or something like that. Overwatch have lighting around highest rank grandmaster and its super cool and ppl try so hard to get this rank.
- Add ranks for 4v4 TDM
if not Deathmatch, new players will really enjoy and communicate with each other and be more addictive to play more quake.
- Add at least 20 - 30 games to qualify
so ppl will have to play longer to get in competetive gaming.
- Add Leaderboard outside Quake Champions.
- Add ingame leaderboard search tab while waiting for a duel in ranked games.
- Add voice communication so when you enter the game it ask you if you want to join channel or no
, and you are able to see who is in channel who has mic and so on.
- Add voice detect for communication not only option - push to talk
. I personally never played with push to talk cos I cant play like that.
This is what I suggest. Feel free to add something more, suggest something more guys.
Edited by CAREEM at 05:46 CST, 23 December 2017 - 3281 Hits