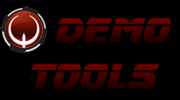 I'm proud to announce the release of Quake Live Demo Tools 1.2.1.
This is the same QLDT you used to use and love, now with support for new Quake Live demo format (dm_90), playback in the standalone QL (including Steam version) and better integration of WolfcamQL, along with other long awaited fixes.
For those who have never used it before - QLDT is a program allowing quick navigation and playback of QL demos from your collection, complete with features to search for frag streaks, specific frags or things said in chat. With just a few mouse clicks, you can cut short snippets from your demos.
Direct download:
Windows installer
Edited by xou at 09:34 CST, 20 January 2015 - 39021 Hits