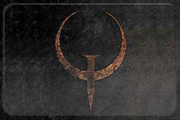 Guys, im having a blast playing quakeworld. You need to spend some days to adapt to the different pace etc from quakelive, but man once you do, it becomes so much fun! non stop action.
Also no one will change its sounds (VO cough cough), gameplay (loadouts, lg 7 to 6, etc). You feel like youre playing a really stable, rock solid game, that will be available forever and ever!
Theres a crazy proxy funcionality included in quakeworld, thanks to which for example i can play with 60ms with chile and brazil, when with quakelive its 180. They are testing some servers in Panama too, so NA and SA players can playing with even (aprox 100ms) ping. And best part, its totally automatic! The fucking game searches the best routes with the proxys availables and connects you thru them.
With all the gay stuff and uncertainity going around quakelive today, quakeworld feels hardcore as fuck. I feel ive changed to a more skilled, solid and fun game. Feels nice to be a gamer again.
Edited by gSTRUCTOR at 07:47 CST, 1 December 2014 - 8302 Hits