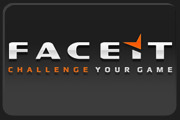 Loser:Cooller, Odds: 7.8% (12:1)
Bets placed: E$6140, betting open: 00:40 CST 14 Dec 2012 to 04:30 CST 16 Dec 2012
Loser:Stermy, Odds: 2% (49:1)
Bets placed: E$1409, betting open: 00:40 CST 14 Dec 2012 to 04:30 CST 16 Dec 2012
Loser:tox, Odds: 13% (7.3:1)
Bets placed: E$11166, betting open: 00:40 CST 14 Dec 2012 to 04:30 CST 16 Dec 2012
Loser:Jibo, Odds: 2% (48:1)
Bets placed: E$1428, betting open: 00:40 CST 14 Dec 2012 to 04:30 CST 16 Dec 2012
Loser:Cypher, Odds: 47% (2.1:1)
Bets placed: E$41689, betting open: 00:40 CST 14 Dec 2012 to 04:30 CST 16 Dec 2012
Winner:Av3k, Odds: 20% (4.8:1)
Bets placed: E$17195, betting open: 00:40 CST 14 Dec 2012 to 04:30 CST 16 Dec 2012
Loser:noctis, Odds: 3.4% (29:1)
Bets placed: E$1922, betting open: 00:40 CST 14 Dec 2012 to 04:30 CST 16 Dec 2012
Loser:Vo0, Odds: 3.4% (29:1)
Bets placed: E$2700, betting open: 00:40 CST 14 Dec 2012 to 04:30 CST 16 Dec 2012
Sunday 11:30 CET some of the greatest legends in quake history will face off against eachother.
There can only be one winner, who will it be?

Anton "Cooller" Singov

Alessandro "stermy" Avallone

Johan "tox" Quick

Zhibo "Jibo" Fan

Alexey "Cypher" Yanushevsky

Maciej "Av3k" Krzykowski

Richard "noctis" Gansterer

Sander "Vo0" Kaasjager
Dont waste all your money just yet, once groups or brackets is announced more bets will follow.
Edited by amOKchen at 03:19 CST, 16 December 2012 - 7922 Hits