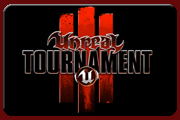 g'day all,
Hosted from Melbourne in Australia's Southern State of Victoria is this dedicated UT3 service, the service provider peers with some of the country's well known network providers such as Pipe Networks.
Running both default and hundreds of custom maps, with all third party content available through a fast off-site Australian content redirection site.
We use TeamSpeak 3 for VoIP Communications with subjects ranging from: Computers, Server Hosting/Administration, Telecommunications, Technology, in Software, Firmware, and Hardware in both Classic/Vintage to the most current of technology, TV Shows, Movies, Music, Audio and Video production and much more.
If you've got a custom map you would like on the UT3 server, you can contact us via TS3 or email
admin@games.cherrylips.net
Server Statistics generated by GameTracker.com
http://www.gametracker.com/server_info/223.27.25.23:7777/
Edited by Wishful Thinking! at 03:43 CST, 31 December 2013 - 7206 Hits