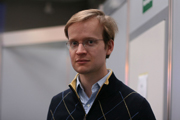 Part 5 of the
Chronicles of czm
switches to the topic of TDM and discusses

Paul "
czm
" Nelson's success with

clan Kapitol in North America.
Is the legend of czm appearing as an aliased player quarter-backing pickup teams vs. real TDM sides how he really got his start? How vital was czm to cK's success? How good was

Fatal1ty at TDM? Should cK even be in the discussion for greatest TDM team of all time in light of teams such as

ic,

unmatched and

QPO?
Part 5 can be watched at
SK Gaming
.
Edited by Nellie at 06:32 CDT, 26 March 2011 - 11446 Hits