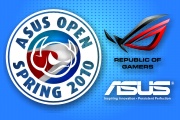 May will see the 29th edition of the
ASUS Open Cup
by Cyberfight. But that's not all: At this time we have prepared a surprise for you. The three largest Russian esport organizations will come together for this especial event: the National Professional Cybersport League, the
Russian eSports Federation
and
CyberFight.ru
. With the help of
ASUS
and
Intel
, they will conduct a three-phase tournament:
- ASUS Online Qualifers
- ASUS LAN Open
- and ESWC Russia
During two weekends we will see 7 LANs and 4 online tournaments, hundreds players from all the post-Soviet states and the best organizers staff. 9 tickets to ESWC, 525 000 rubles (~13 560€) and prizes from sponsors are waiting to be won.
The ASUS Online Qualifers will start on the 8th of May, one day before

Victory day
. The ASUS LAN Open will take place during 22-23th of May in

Moscow
at the 2 famous game-centers
Click-Net
and
Rush3D
. And finally on the 30th of May, the ESWC Russia qualifer matches will be played at the NPCL television studio with the best russian players from the ASUS Spring 2010.
UPDATE: ESWC 2010 Russia Preliminaries:
Stream: Direct link
Coverage: Cyberfight
Shedule:
- 13:00 CET – FIFA 10
- 14:20 CET – Quake Live
- 16:15 CET – Warcraft 3
- 18:30 CET – Counter-Strike 1.6
Source:

Summary (RU),

Tourney FAQ

#asus.ql
Edited by Danmer at 07:10 CDT, 30 May 2010 - 14067 Hits