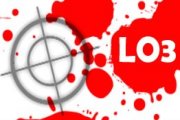 Scheduled: 17:00 CST, 5 March 2009 to 19:00 CST, 5 March 2009
Schedule:
Passed
UPDATE
: The VOD of E06 is
now available for your viewing pleasure
or alternatively on
blip.tv
.
Episode 6 of "
Live On Three
" comes with some major developments to the show. Competitive gaming guru

Rod "
Slasher
" Breslau, who was last week's special guest (in
Episode #5
), will now be a permanent addition to the show. Slasher will join

Marcus "
djWHEAT
" Graham as the shows new co-host, bringing together two differing personalities to provide an excellent mix of eSports knowledge to listeners. Slasher will not only join as a co-host, but will assist in booking players, journalists, league operators and other industry experts to discuss the biggest topics in competitive gaming every week.
This week's "Live On Three" focuses on the

ESL Extreme Masters Season II European and Global Finals
in Hannover,

Germany. 12 Europeans teams in both

Counter-Strike 1.6 and

World of Warcraft have battled it out for $50,000 each, as well as seven spots each at the Global Finals. We'll talk about the winners and losers of the event and preview the Global Finals with the full list of teams.
Journalists on the show to discuss the event include
GotFrag
editor-in-chief Marc "Singlecoil" Turner,
Readmore.eu
editor-in-chief David "
Craven
" Abel, ex-Readmore.de editor-in-chief Daniel "Beeemit" Jensen and
Arenacast
co-host Keith "Igoaf" Trahan.
The show will begin 18:00 CST, 5 March 2009 and Wheat will go live at 17:00 CST with Wheatisms and Music. You can view the show live at the following links:

VIDEO:
http://www.djwheat.tv/live/

AUDIO:
http://sc.quakescene.com:8000/

#djWHEAT on GameSurge and Quakenet
Edited by Nicky at 09:48 CST, 6 March 2009 - 8472 Hits