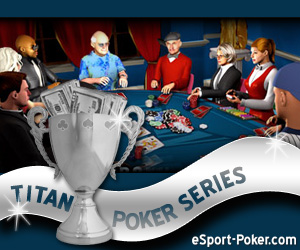 Scheduled: 13:00 CDT, 8 March 2009
Schedule:
Passed
ESReality is proud to present the
eSport-Poker.com
Titan Poker series! For all of you who are bored of watching your place in the QuakeLive queue how about killing time playing poker? The winner of the tournament will get a custom gaming laptop - choose your parts, then have your own design painted on the laptop by Swedish legend Mikael "GoTaLL" Gustafsson. That's not all, for every participating player in the tournament to make a first deposit, $30 will be added to the prizepot – meaning there's some serious cash to also be won!
There will be sit & go qualifiers running 24/7 until 13:00 CDT, 8 March 2009, when the final tournament will be played. Each sit & go table has 5 spots, so you all have a good chance to win a ticket to the finals. Join
#esport-poker
on quakenet to play with the pros, set up games with your friends, talk about your bad beats and get any support you need.
The tournament is made just for the gaming community, so the only way to be eligible to play is by
clicking here
.
If you have spoken to
PURRI
already about this tournament please msg him about it on IRC, or message us if you need help or anything else.... anything. See you on the tables!
There is a update for this tournament!
We will be using "Bounty" players randomly and at certain times on our tables during this tournament.
This means that if you knock out any of these "Bounty" players you will recieve 50USD bonus to your account. We are at the moment selecting these players and so far there is purri and fox. So come and try if you got the skill to knock them out!

Edited by Nicky at 00:58 CST, 6 March 2009 - 13940 Hits