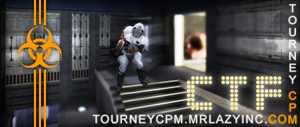 Team registration is finally open, EU seems to be ahead right now, and more teams on the way. NA players need to get their teams back into shape, but more importantly to create teams. The teams that form now will have a chance at getting themselves into international recognition. I do not plan to fall short of that myself with Team Kevegm, and I know many that are beyond my skill.
A few teams in NA are in record still a team, and I'm expecting good performance from them when the time comes, but to keep up with them, training with your new team is top priority.
Team Registration
To list your team for the tourney msg me:
TheMafia
on ESR or
Join


#uscpmpickup
and/or

#cpmpickup
on QuakeNet and pm me.
Team List
The current TCPM CTF Team List can be found in the
event details
xano0ch's Promo Video
Save as:
CTF Promo Video
Additions:
Thank you to arqon and ix for their support through this post:
http://www.promode.org/?p=576
Edited by TheMafia at 19:57 CST, 5 March 2009 - 9390 Hits