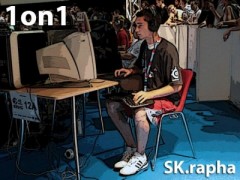 The most fascinating individual in North American Quake 3 since the ESWC 2008 Grand Final,

Shane "SK.rapha" Hendrixson, was featured in a video interview by SK.
In it, he tells his story from the moment he became fascinated with Quake while watching

ZeRo4 play

Fatal1ty at QuakeCon 2002 until the moment where he ended up representing the same team as he. He also addresses the "five steps ahead" comment, talks about his gameplay and the ESWC.
Due to technical limitations watching the embed below is not recommended because it is stretched. Find the proper widescreen version
right here
.
Edited by Nicky at 19:12 CDT, 24 September 2008 - 165235 Hits