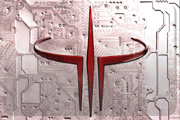 Since the only chance i get to sit down and play some Q3 is after getting home at night after work, i save some bills by turning off the lights while playing.
Now, normally in a game, you're concentrated and don't pay attention to a simple thing such as the teleport blink.
But what if you decide, say, practice some strafe jumping?
Sure, you load opc1 or jjm or any other trickjumping level; if you fail a jump most of these levels send you off to the start via a teleport.
Sometimes the jumping skill is kinda "off" and you tend fail plenty of jumps, and that's when the problem arises: one night i was on opc1 and miserably failing every jump after the fifth platform, the large amount of teleportation started to make me feel dizzy, now i'm not that sensitive to motion sickness and the like, but i just took notice that this could actually lead more sensitive people to experience a seizure.
Even with the lights on, this thing messes with your eyes.
It just begs the question: why the hell do teleports blink in the first place?
Mon
Tue
Wed
Thu
Fri
Sat
Sun
1
2
3
4
5
6
7
8
9
10
11
12
13
14
15
16
17
18
19
20
21
22
23
24
25
26
27
28
29
30
Edited by xyGvot at 01:02 CDT, 25 September 2006 - 9424 Hits